Nashville. It has become like a second home to me.
I've always enjoyed visiting, as I have family there, so we went there a lot when I was growing up.
Now that I have even more friends there, it's the perfect getaway for a long weekend.
So when I saw the legendary Garth Brooks announced a show at Nissan Stadium for April 16, I HAD to find a way to go.
However, next to football season, this is the busiest time of the year for me.
Between baseball and softball broadcasts, awards show, and DJ gigs, my April and May were pretty much booked solid.
However, somehow….possibly divine intervention…April 16 was the only free weekend I had during that stretch. So I took it as a sign to take that long weekend.
---
So when tickets went on sale, I was online in the waiting room…an hour before they went on sale. Sitting on go.
When the time came, the computer told me I was around the 2000th person in the digital tickelt line, so I figured that would allow to get some decent seats.
But by the time  I got to the front of said line and had the seats I wanted and clicked purchase…nothing happened. I tried again. Nothing. I changed seats. Nothing. Everything I did I kept getting the "cannot process transaction error."
So, not being discouraged, I decided to call the TicketMaster number to order tickets. I figured it would take forever, but was still optimistic I'd get in.
To my surprise, I was on hold for 2 minutes and an actual person picked up the phone. Here's how that conversation went:
"Thank you for calling Ticketmaster. How can I help you?"
"Oh…uh…yeah I want some Garth tickets."
"Great I can help you with that. It looks like the best seats I have are lower deck sect…."
"I'LL TAKE THEM!"

---
So skipping over all the shenanigans for the two days I was in Music City prior to the concert…..and trust me there were plenty….we'll go right to hours before the show.
My pal, and most gracious host and friend Kel, and I went to a fun honky tonk a little off of Broadway.
Ended up meeting some very nice girls from New York who were going to the show as well, so we all walked to the stadium together (More on this later).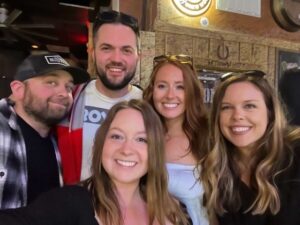 ---
We get to the stadium and our seats are pretty good. Around 50 yard line, about 20 rows off the field. Would've been a hell of a good spot to catch a Titans game.
As it gets closer to show time, I see some Grand Ole Opry gear being brought out to the stage. DIdn't think anything of it. I just figured they were a sponsor.
OH BUT THEN….Bill Cody….a legend of country radio and the Voice of the Grand Ole Opry walks onto the stage and says tonight is a special broadcast of the Opry….then he introduces Chris Young….who comes out to a thunderous ovation and  sings his hit "Getting You Home."
This was all out of nowhwere. As someone who keeps up to date on things, especially music related, due to my radio job, I had NO IDEA we'd be at an airing of the Grand Ole Opry.
And as a radio professional, the Grand Ole Opry radio show is an absolute favorite of mine. Hearing stories about people everywhere tuning in to 650 WSM-AM on a Saturday night to hear the show. That is just the coolest thing ever to me.
Also, when people ask me what my dream job in radio is…my answer is always the same: to be an on-air talent for WSM.
So to be a part of this broadcast was already special to me, but it got so much better.
Chris Young took the mic and introduced Chase Rice…who came out to sing a couple of his hits.
THEN Trisha Yearwood came on stage to sing "She's in Love with the Boy" and for the 2nd verse…she brought out Lauren Alaina to finish the song with her.
Chris Young then sang a cover of Garth's "Papa Love Mama," which Garth came out and joined him for during the chorus.
AND THEN…..Bill Cody announced that country legends Larry Gatlin and Jeannie Seely were coming out to sing "Will the Circle Be Unbroken."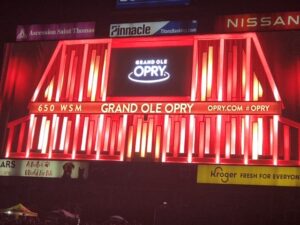 ---
At this point, I admit to choking up a bit and getting teary eyed. The history of it all and my love of the Grand Ole Opry and WSM.  And remember we haven't even gotten to Garth yet.
I should mention that I have seen Garth before this. Back in 2010, my college roommate and I came to one of the Flood Relief concerts at Bridgestone Arena. And that show was great, but I was not prepared for how much better this show would be.
Well the show starts with on of his newer songs "All Day Long," and as hard as it is for this die hard Garth fan to admit….I didn't know this song very well. Basically the chorus and that's it.
But after that, the show was classic Garth. I will try to list all of the songs he played and the order he played them in.
All Day Long
Rodeo
Two of a Kind, Working on a Full House
Beaches of Cheyenne
More Than a Memory
Two Pina Coladas
Fishin' in the Dark (Nitty Gritty Dirt Band)
The Thunder Rolls
Unanswered Prayers
Ain't Going Down till the Sun Comes Up
Shameless
That Summer
Much too Young to Feel this Damn Old
The River
Callin Baton Rouge
Friends in Low Places
The Dance
So that's his original set.
But the 73,000 people packed into the stadium weren't ready to go home yet. So he comes back out for an encore.
And Garth does something cool for his encores: He grabs his guitar and walks around the stage looking at the songs people have written on signs in the audience. So he'll walk to someone, ask the story behind why they want to hear the song, and then play a verse and the chorus. So that's how he started. Here's that list:
What's She Doing Now
Miami, My Amy/Don't Close Your Eyes (Keith Whitley)
It's Your Song
She's Every Woman
Amarillo by Morning (George Strait)
You Never Even Called Me by My Name (David Allan Coe)
Standing Outside the Fire (Full Song with full band)
Note: You HAVE to see what happened during Standing Outside the Fire. I won't spoil it for you because you seriously have to see it for yourself in the link below.
LINK: Garth Brooks and Charles – Standing Outside the Fire – April 16. Nissan Stadium. 
After that, Garth said goodnight for a 2nd time, but the crowd once again wasn't ready to leave. So he comes out for another encore.
At this point, my crew had left to get ready to walk back downtown. One of my New York friends called me. I ignored it. Kel called me. I ignored it.
I had an idea about what songs he was going to sing, because of the previous times I'd seen him, but I still wanted to sing along. So he did indeed sing two covers I'd heard him sing before.
Piano Man (Billy Joel)
American Pie (Don McClean)
Knowing that American Pie was most likely his final song, I decided to head out before the end of the song, just to beat a little bit of the rush.
I finally tracked down my group, who had been patiently waiting on me so we could all walk back downtown together….at which point the following conversation took place:
"We were *this* close to leaving you."- My newly made friend from New York. 

"Question: Who is your favorite artist of all time?" -Me

"That's a tough question. I don't really know." -Her

"Well THAT'S mine, so there's ZERO chance I was leaving early tonight." -Me
Well if you've made it this far, that was my 2nd Garth experience.
I truly wish everyone who is a country music fan…or just a fan of live music in general…could experience a show like his.
It is non-stop from start to finish.
And I will reiterate an earlier social media post…that you haven't lived until you sing "Friends in Low Places" with Garth and 73,000 of your newest friends.