Softball playoffs are a grind. I don't know how the players do it.
Unlike high school baseball, where the games are played Thursday, Friday, and Saturday over 5 weeks, softball playoffs are played Thursday – Friday, Monday – Tuesday, Thursday – Friday and then another Thursday- Friday series. And the 2nd day of the series, it's possible for there to be a doubleheader.
For the radio guy that means a lot of late nights on the road and quick turnaround preparation. Not to mention what it means for the parents who have to wash uniforms, get players to school and games. All of that. It is a madhouse.
But after not having a season last year, the madhouse postseason softball playoffs were extremely welcomed by players, coaches, parents, fans, and even the tired radio guy.
I won't attempt to recap the entire post-season with this post. For that you can follow this Twitter thread.
2021 @WhippetSoftball softball playoffs.

*A thread….. pic.twitter.com/yRbfroP0YP

— Breck Riley (@BreckRiley) April 23, 2021
Here we will discuss the State Championship series in Hattiesburg.
It was a wild 3 days.
Got up Thursday to head out with the team and I was asked to be at the field house for something at 7:30. Little did I know that a few team moms had prepared me a goody bag and gotten me a 4A North State Championship Shirt that all the players and parents were wearing for the drive down.
And it had a couple of my all time favorite snack in it: Slim Jims and Blow Pops.
HOW GREAT ARE TEAM MOMS?!?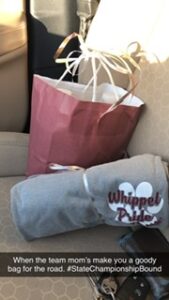 I went to the sendoff party for the team at Kosciusko Lower Elementary. And it was great to see all the little kids turn out for the team.
As we left out for Hattiesburg, somehow I got in front of the convoy, and was the first to arrive at the stadium. That's nothing new for me, I'm usually one of the first people at any stadium when I'm doing a broadcast.
As critical as I am of the MHSAA at times, they did put on a top class event.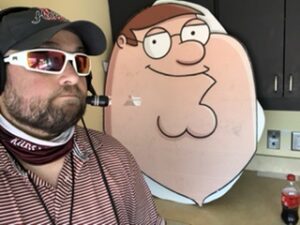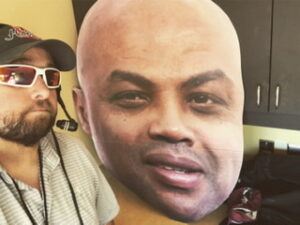 And what's great about these events is that when you've been in the broadcasting game as long as I have and with Mississippi being one big high school, it's like a family reunion when you get to the press box.
My pal Josh West, who has been the voice of the Holmes CC Bulldogs on Breezy `101 for over 10 years, was there. The radio commentator for North Pike's radio broadcast is also a friend of mine who has done some work for Boswell Media in the past.
And as I'm talking to the PA announcer, I hear someone yelling from the TV booth, "Don't you ever shut up?" It's my friend Newman who I had multiple classes with at MS State and is a staple in shooting video for games around the state.
I ended up going out for drinks with Newman and the TV crew and then dinner with Josh while I there for the weekend. It's always good to catch up.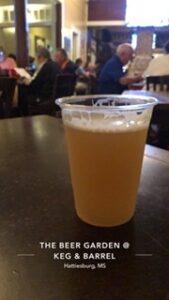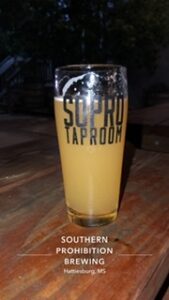 As far as the games go, you couldn't have asked for anything better.
Our girls lost game one, but I felt the same way after it as I did after they lost game 1 to West Lauderdale: that Kosciusko was the better team and that they would prove it in games 2 and 3.
After speaking with Coach Terry, the players felt the same way.
When the team started pounding the ball in game 2, I knew we were set for an epic game 3. I didn't realize how epic at the time though.
As the Whippets trailed heading into the bottom of the 7th, I casually reminded the radio audience that this was nothing new to this team.
In 2018, the Lady Whippets trailed Lawrence County, 7-0 heading into the final inning. They then tied the game and went on to win it in extra innings.
Wash. Rinse. Repeat.
Because that's exactly what this team did.
Not one, but two comebacks late in the ballgame and they'd done it. As unlikely as it may have seemed to us on the outside looking in, I don't think it was ever in doubt for those in the dugout and on the field.
There is absolutely zero quit in this team.
That's good to see as a broadcaster, because it makes for an exciting broadcast for me.
It's even better to see as a Whippet myself, because that's the character you know, coming through from a class program.
Hats off Lady Whippets and congrats on brining home another 4A State Championship.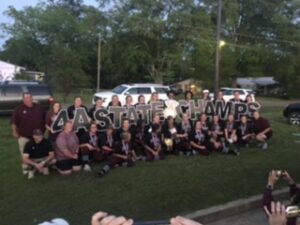 ---
A few special Thank Yous are in order as we wrap this up:
First of all I have to say thank you to Amy Price, Lindsay Dickerson, Jenny Jones, and Tonya Kelley for the goody bags and cards you gave me. And really thanks to all of the team parents and coaches for making me feel a part of the team.
Thanks to all of our specials guests we had come on the broadcast this postseason. Former Lady Whippets and part of the 2018 State Championship team Gabby Kelley and Makenzie Ryals (even though she definitely dropped a pop up foul ball in the stands during game 2. I saw it.) joined us on air a few times. My football broadcast partner Phillip Palmertree sat it for a game or two. And eve Whippet head football coach Casey Orr put on the headset.
Thank you to all of the Whippet fans who tuned into the broadcast. Whether that was on Breezy 101, the app, or on our audio only YouTube stream. I know you had the opportunity to watch the video stream, but choosing to listen and support the local broadcast means a lot.