I'm not sure how I can begin to recap or convey having the opportunity to work with the State Championship Radio Network broadcasting the 2022 Mississippi High School Football State Championships, but I'll try.
Back in July or August, I got a phone call from Jared Shotts. Jared is the radio play-by-play commentator for Germantown High School and the brains behind the State Championship Radio Network. I'd known him for a few years after meeting him in 2019 at broadcasters meeting at Mississippi College.
I'd spoken with him a few times since that meeting, letting him know that I'm I'd be happy to help out with the state championship broadcasts should they ever need a fill-in.
Well, Jared did indeed call me that day to talk about working for the network, but in a different capacity.
This season, they wanted to have someone host the halftime show and a show in between each championship broadcast. In past years, after the game broadcast was over, the radio would go back to "regularly scheduled programming" for an hour or so and then come back to the next game broadcast.
Jared wanted a way for the listener to stay tuned in to the network between games and that's when he offered me the opportunity to be the host of that Game Break Show as we were calling it at the time.
Now I love doing football commentary and still hope to be able to broadcast one of the championships games in the future, but this was a unique opportunity all its own: a chance to be funny/entertaining and put out that Radio Personality of the Year vibe,  but in a sports setting.
Not to mention I'd be the one on the air more than just about anyone else that entire weekend. Even better than that, Jared would give me freedom to book my own guests for the show. And since the games were to be held at Southern Miss this season, I had plenty of ideas on who I wanted to call.
So there was NO hesitation from me to say yes.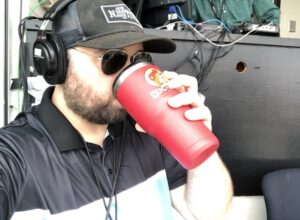 ---
Let's take a detour here to tell you about the State Championship Radio Network. 
The network consists of 9 stations all across the state of Mississippi.
105.9 The Zone (WRKS) in Jackson
Mississippi Public Broadcasting (8 affiliates statewide)
And what I love about this network is that no matter where you are in the state, you can listen to the games FOR FREE on an FM radio.
Also, you can listen around the world online with the ESPN 105.9 The Zone audio stream.
Another thing I love about the network is that it is wholeheartedly a Mississippi product…and a damn fine product at that.
From the voices on the air to the one behinds the scenes, everyone involved has Mississippi in their blood.
Broadcasters for the State Championship Radio Network. 
Ben Ingram – Voice of the Atlanta Braves (MS native).
Jared Shotts – Voice of the Germantown Mavericks and owner of Shotts Media.
Jake Wimberly – Voice of the Brandon Bulldogs and host of The Drive on ESPN 105.9 The Zone.
Bryan Eubank– Voice of the Jackson Academy Raiders and producer for The Raider Network.
Josh West – Voice of the Tri-County Academy Rebels, 20+ years in broadcasting
Caleb Hamill– Voice of the Presbyterian Christian School (PCS) Bobcats.
Brandon Davis– PA announcer/color analyst for the Warren Central Vikings.
Bill Wilson – Producer at ESPN 105.9 The Zone.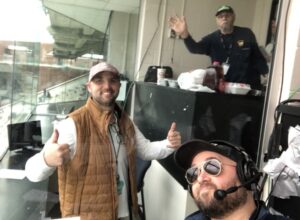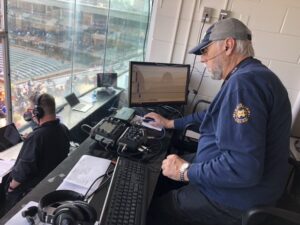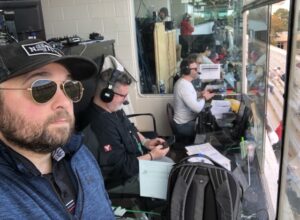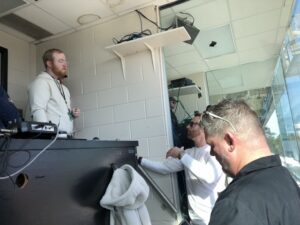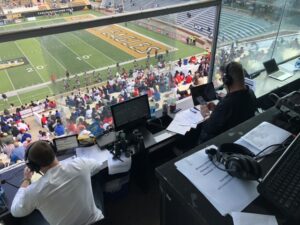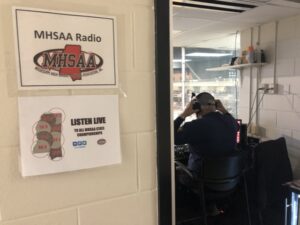 Detour over.
---
Fast Forward to November.
Jared informs me that the everything has come together and that Raising Cane's is the main sponsor for our show. And if you know me, you know how excited I got about that.
The official name of my segment would be "The Raising Cane's Tailgate Show."
Additionally, I would host "The MHSAA Halftime Show" to give game recaps, stats, and interview a guest if we had the time.
Once I knew we had the green light, I went to work trying to book guests.
My first idea for a guest was simple: Ben Ingram – Voice of the Atlanta Braves.
Ben, who is originally from Mississippi, works with the network and was booked to broadcast 3 of the state title games. The Braves won the 2021 World Series, so that interview practically wrote itself.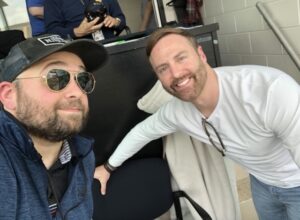 Next up was an email to Marlo Dorsey from Visit Hattiesburg. I wanted to get her thoughts on State Championships and the impact it can have on the town and tourism in the area.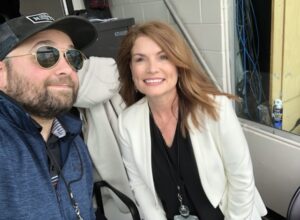 And you can't talk sports in Mississippi without mentioning the legend that is Rick Cleveland. I grew up reading his coverage and columns when he was working for The Clarion-Ledger.
I mean he is a walking encyclopedia of Mississippi sports knowledge, having covered players like Walter Payton, Jerry Rice, Steve McNair, Marcus Dupree, Cam Akers, and the list goes on.
And not only that, he's from Hattiesburg so it all lined up perfectly to have him on the show.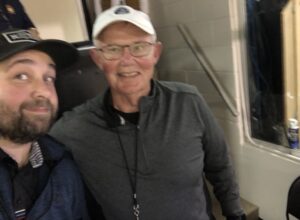 I also knew I wanted to have a coach on the show to break down some teams and games from an X's and 0's standpoint.
This proved to be a bit more difficult as coaches schedules can be quite hectic, even if their seasons are over. Here's a list of coaches I reached out to who couldn't make it:
Lance Mancuso – Jefferson Davis County
Drew Causey – Oak Grove
Toby Collums – Madison Central
Judd Boswell – Clinton
Thankfully, my pal Josh West (who was my host for the weekend) helped me get in touch with Hattiesburg High School head coach Tony Vance. Coach Vance had previously coached at Charleston (who was playing in the 2A title game), so he provided some great insight into that program.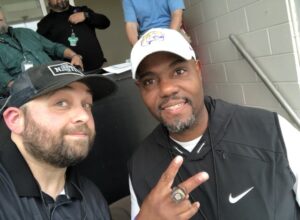 But the interview I was wanting more than anything was all dependent on two specific teams making it to the championship games.
Granted, those two teams were the favorites to make it to the title game, but anything can happen in high school football.
But fate smiled on us and we had the matchup we needed: West Point vs Picayune in the 5A Championship game.
The reason I was PRAYING for this matchup is because those two teams have two of the longest tenured radio play-by-play commentators in the state.
For West Point, Bud Bowen is in his 43rd season. And for Picayune, Carey Meitzler has called 29 seasons for the Maroon Tide.
Now, I had known Carey for a few years (oddly enough I met him at the same meeting where I met Jared), because not only does he broadcast Picayune, he's also the Voice of the Pearl River Community College Wildcats, so we usually talk prior to when PRCC plays Holmes.
I had never met Bud in person, but I got his number from Carey and they both agreed to come on the show.
I'm not lying when I say that was one of the best and most fun interviews of my career. I think all three of us could've talked another hour or so about broadcasting football and giving all kinds of horror stories of things that can go wrong. I hope to have the audio of that interview soon to share.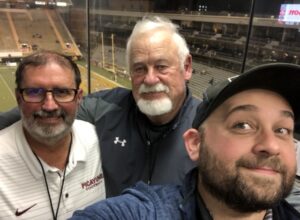 Additional guests that appeared on the halftime or tailgate show:
Adam Johnson – General Manager of the MHSAA
Rickey Neaves – MHSAA Executive Director
Robbie Faulk – 247 Sports, Starkville Daily News, and host of The Thunder & Lightning Podcast.
MS Army National Guard – SFC. Josh Seymour, SFC. Curtis McGee, SFC. Josh Purvis
Now I have several great stories from the weekend that I don't have time or room for here. You'll just have to ask me in person about those (especially the one where I filled in for Bud for one play during the West Point broadcast. That's an all-time great story).
The main takeaway I had from the weekend was how all of us working the broadcast had the same goal in mind: providing a quality broadcast for anyone across the state (or anywhere for that matter) that wanted to be able to keep up with the games.
Whether it was from family/friends of a player, a fan of the teams, or a supporter of Mississippi High School football, we all got texts, DMs, tweets, and other messages from those who were grateful for what we were doing.
I was happy, and honored, to be a part of it.
"Always remember that those broadcasts sometimes mean more than just keeping up with the game. Somebody, is listening, wishing they could be there, and as a broadcaster you bring them there to help escape and take them away from whatever they're experiencing for that game." – Greg Townsend